---
I was gone for a few weeks in Japan, so progress on the kayak has been slow. I'm back to doing some work on it. First I had to sand it a ton. 80 grit, 100, 120, 150, 220. I touched up some thin areas with a little more epoxy and then sanded some more.
My plan was to spray it with my HVLP instead of brushing on the finish. I wanted to do it all in one shot, so I suspended it in the air: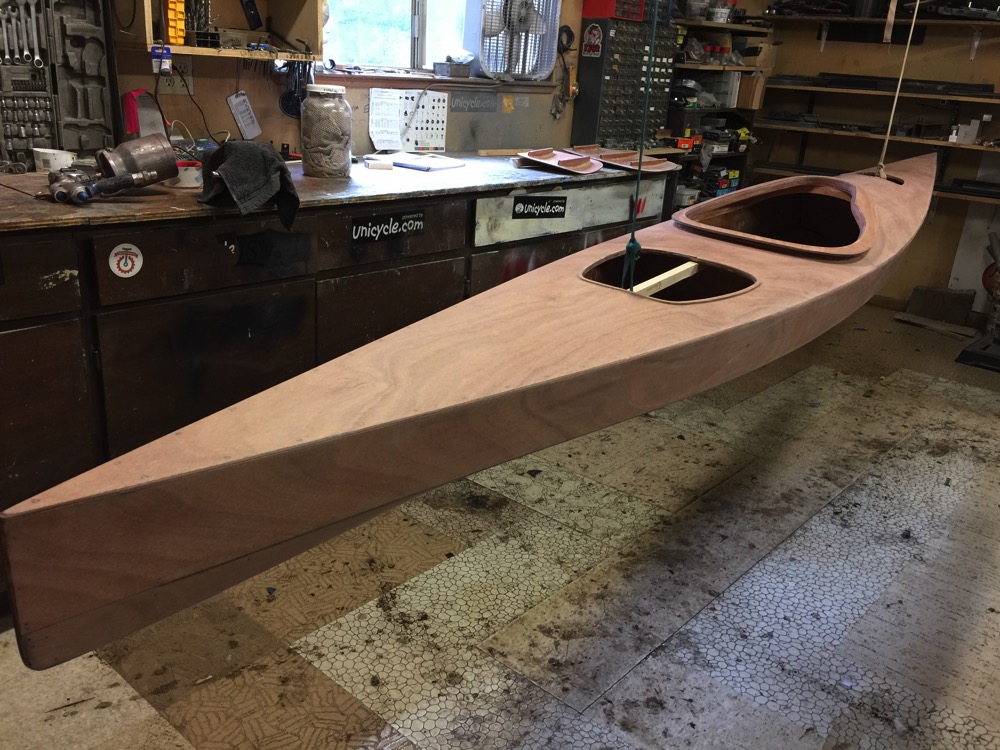 I just attached the webbing to the ceiling with a few screws and washers to distribute the load: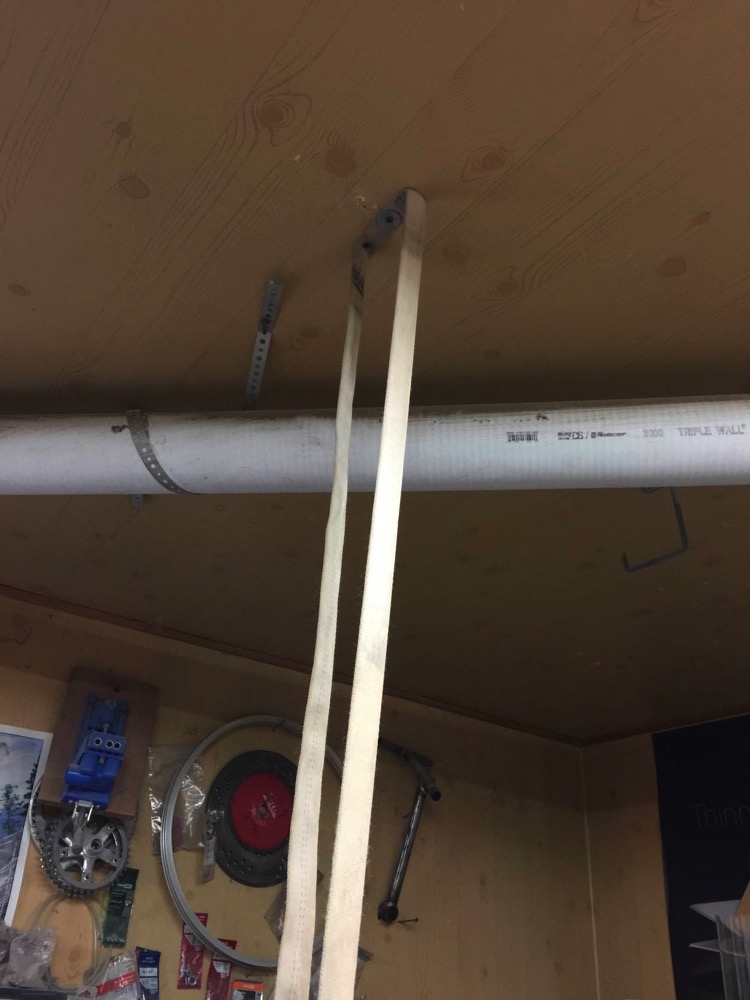 This allowed me to spray the bottom and top at the same time, and worked pretty well: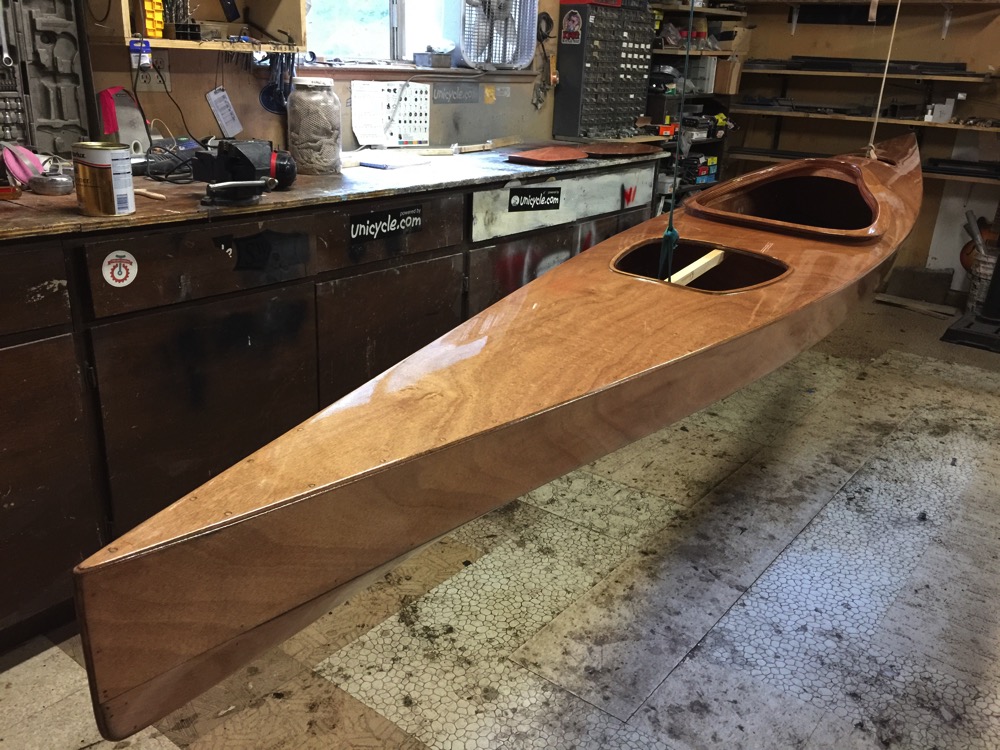 After this, I waited about a day and wet sanded it with 320 grit. I'll up it to 400 grit after the second coat. I want to have a nice level surface, so I'm still sanding it with a sanding block to get it smooth. Note that I also mop the floor to get rid of all the dust.
---
---
More horse photos! This photo was also taken when I was going through Spain heading from Barcelona up to San Sebastian with a few friends last summer. We touched through France, and I'm pretty sure I snapped this picture while we were on the France side of the world. It is another HDR combined from five difference exposures using Photomatix — the program is awesome for creating HDRs. Download it from Amazon using my link!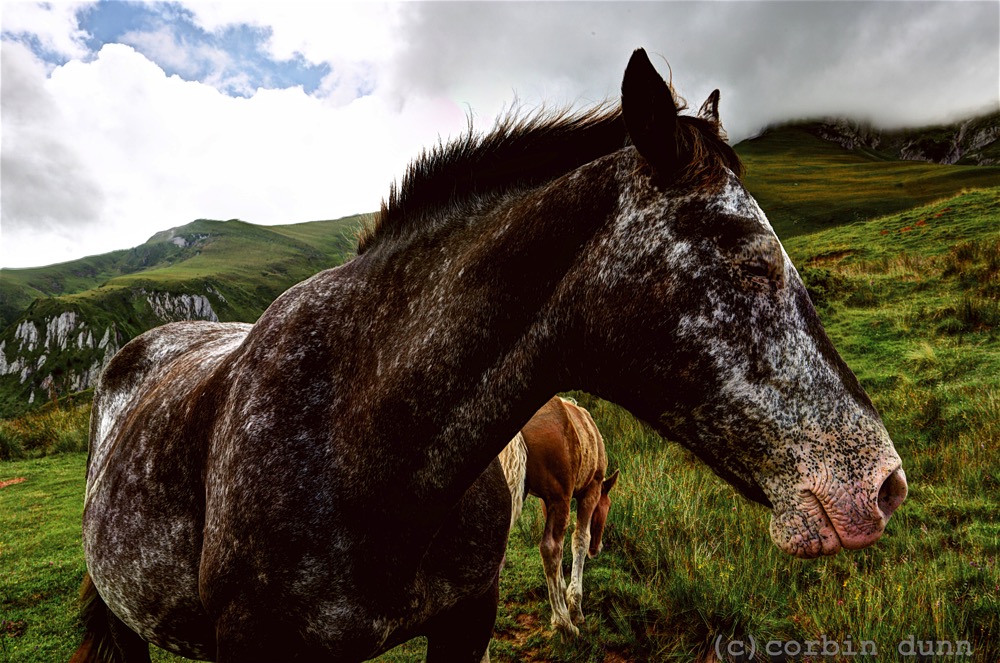 ---
---
I ran around with my tripod taking tons of pictures of the horses on a windy hilltop in France last summer. I used  Photomatix to generate this picture by combining five different exposures.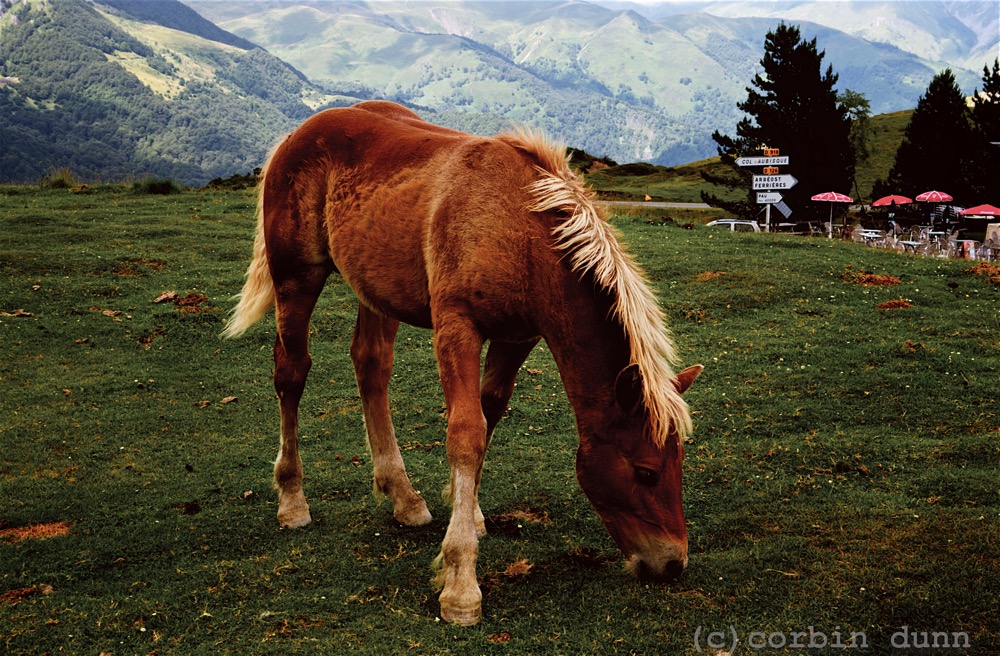 Use Photomatix! I highly recommend it. Below shows some of my workflow; the image at the left is one of the original exposures. The ones at the right are experiments with color correction to give the photo different feelings and moods.

---
---
I used to not really like hiking. There seemed to be no purpose to it; you followed a trail for no real rhyme or reason and usually ended up back where you started. I never sought out hiking as an activity, but I always have been a hiker, it is just that I  never considered what I was doing as actual hiking. As a kid I would wonder around in the trees following deer trails simply to see where they went. As an adult, I would hike miles to go climb some rocks or see some fantastic waterfall. I never really realized that I also really enjoyed the process of getting to where I was going; being immersed in nature is such a wonderful feeling.
I love redwood trees. It probably stems from me growing up around then, and literally living with them in a treehouse. Here are a few pictures I took with my Canon 5D while on a 20 mile trip to see Clouds Rest in Yosemite. Some people might even call it a hike…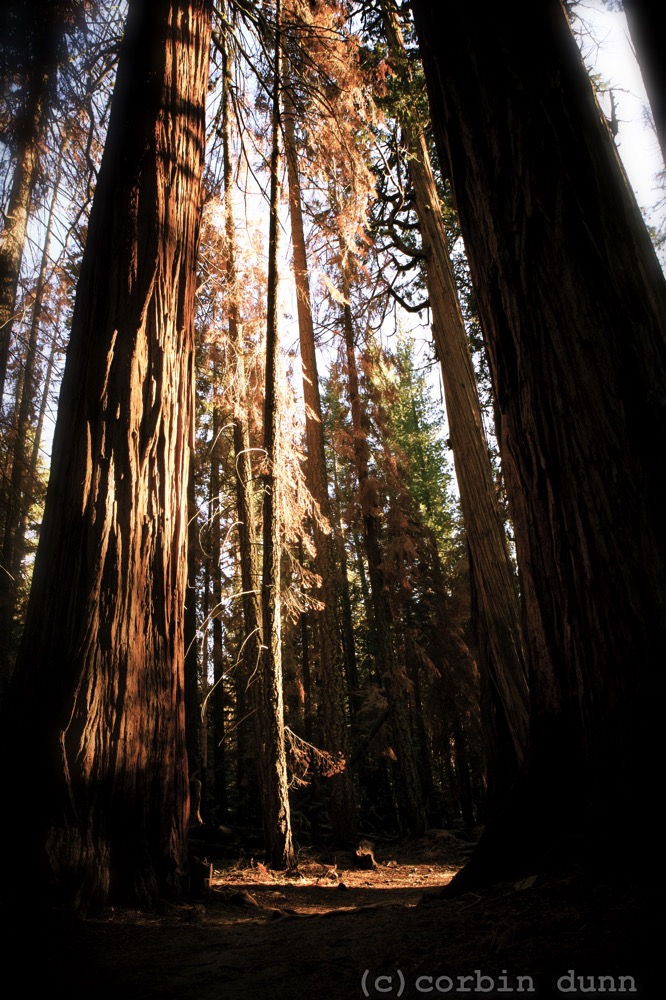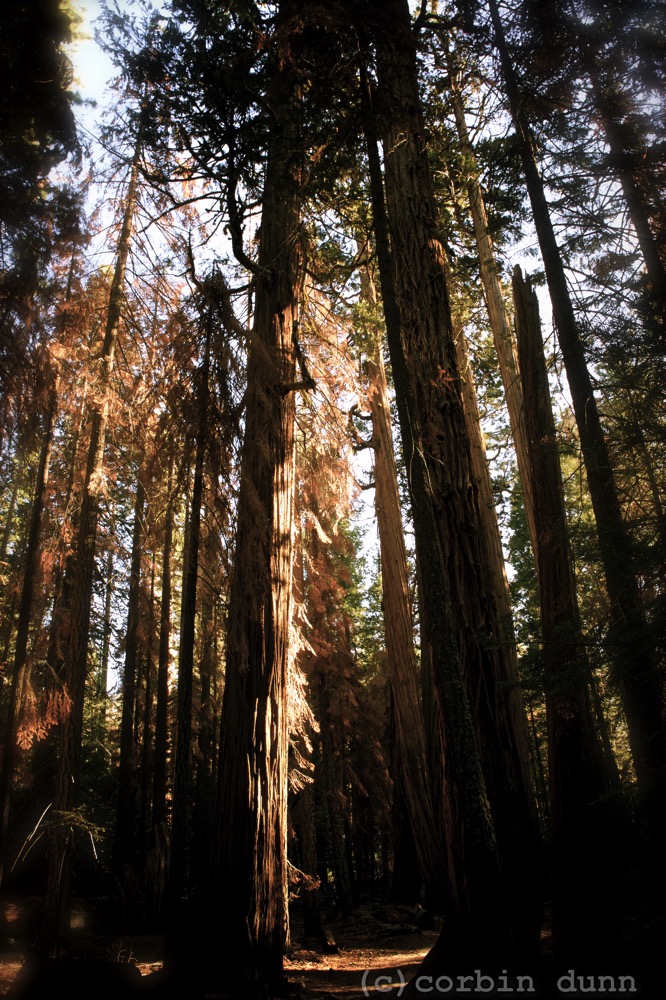 ---
---
---
Posted in
General
|
Comments Off

on Chesapeake Kayak: Almost done (video)
---
---
Okay! Progress is happening when I have spare time. I glued on the cowling around the opening, cut it to fit and sanded it smooth. The glue-up was a bit tricky…I didn't have quite enough small clamps and had to use a bunch of big ones. I thought I took a picture, but I can't find it!
Then the hatch openings were marked and cut out: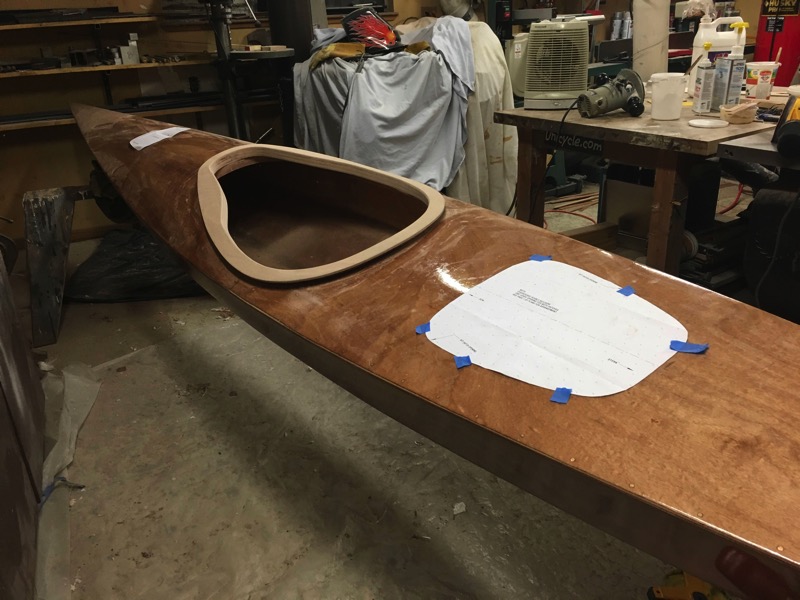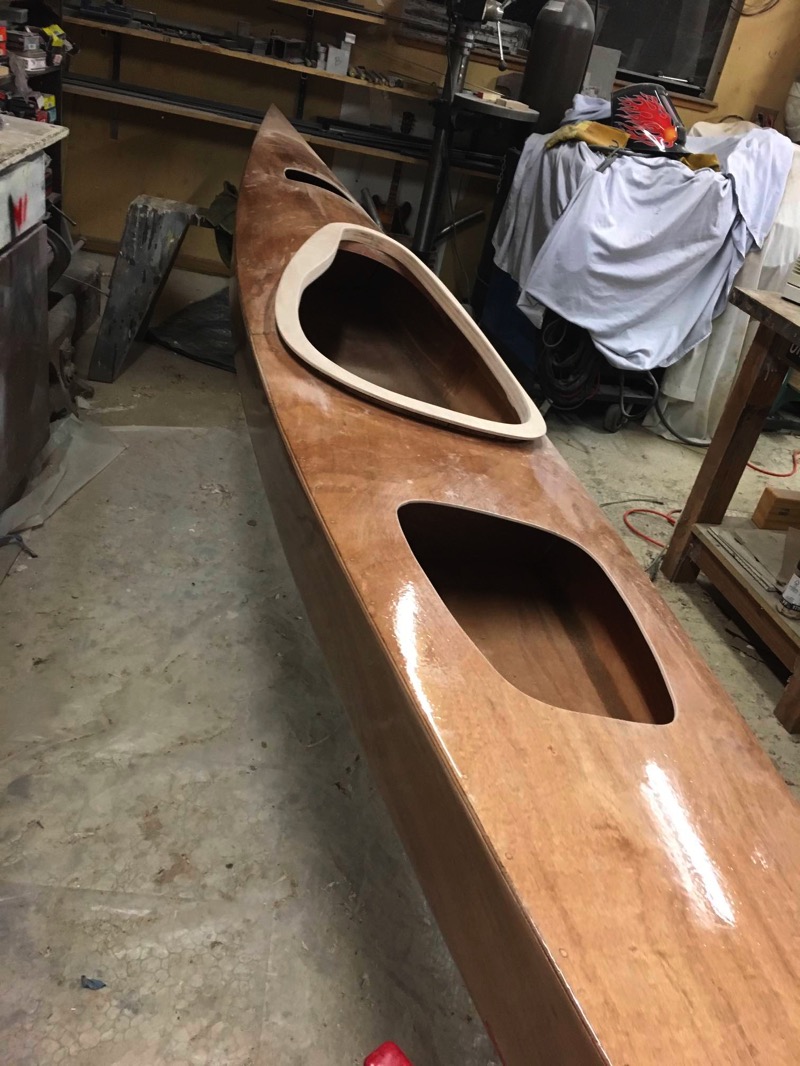 ---
Posted in
General
|
Comments Off

on Building the Chesapeake 16LT Kayak: Part 11 – Mark and Cut Holes
---
---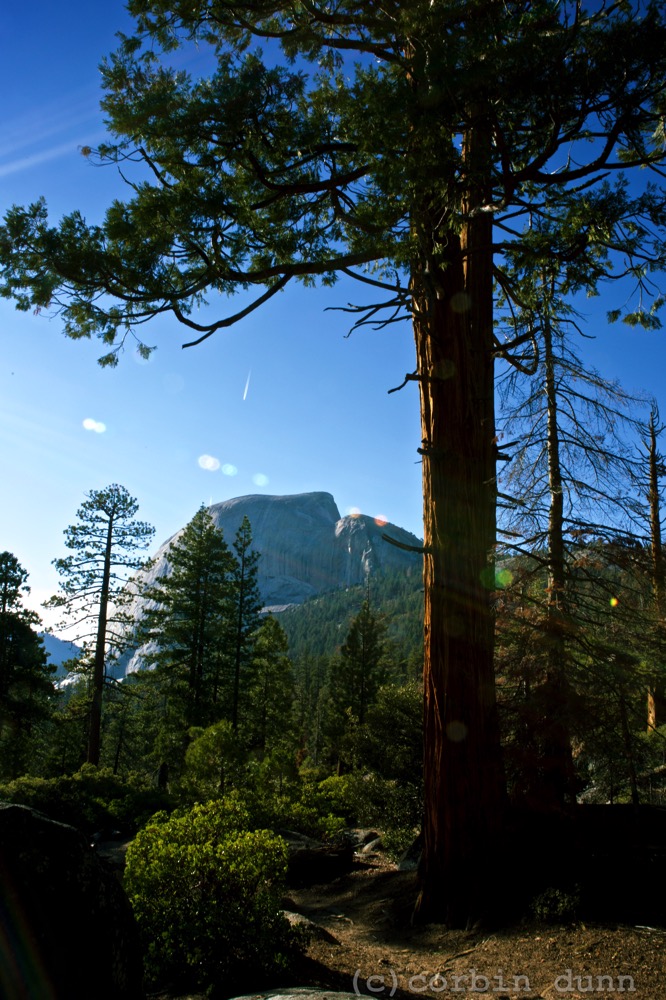 ---
Posted in
Photography
|
Comments Off

on Photography: Half Dome Side
---
---
I used 4oz fiberglass on top, per the instructions in the kit. I was afraid I was going to run out of epoxy hardener, so I only glassed half of the boat at first. This is fine..since the glass is done in two pieces.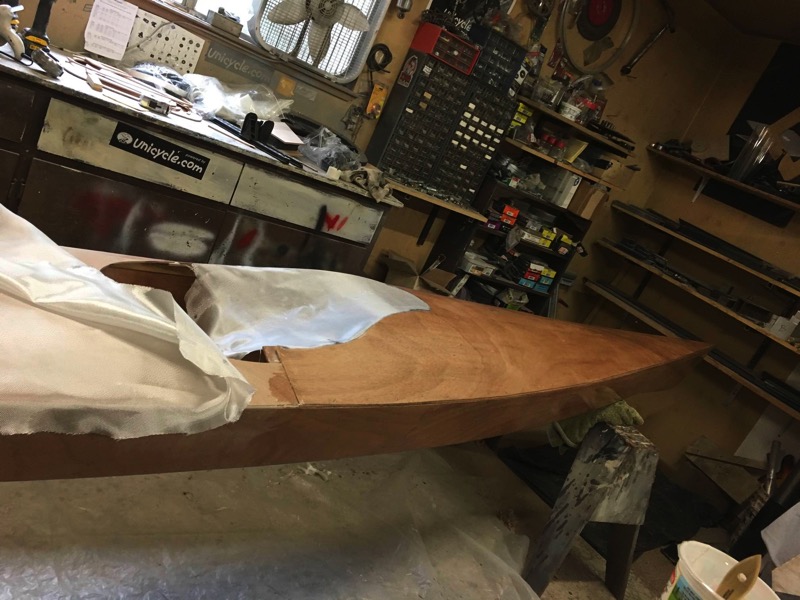 I jumped over to West Marine in Santa Cruz and got some more of their epoxy that has a "clear" finish (i.e.: non-blushing). I got home and cut open my container to utilize the last bit, and managed to get enough out from the original MAS bottle to do the rest of my kayak's first coat: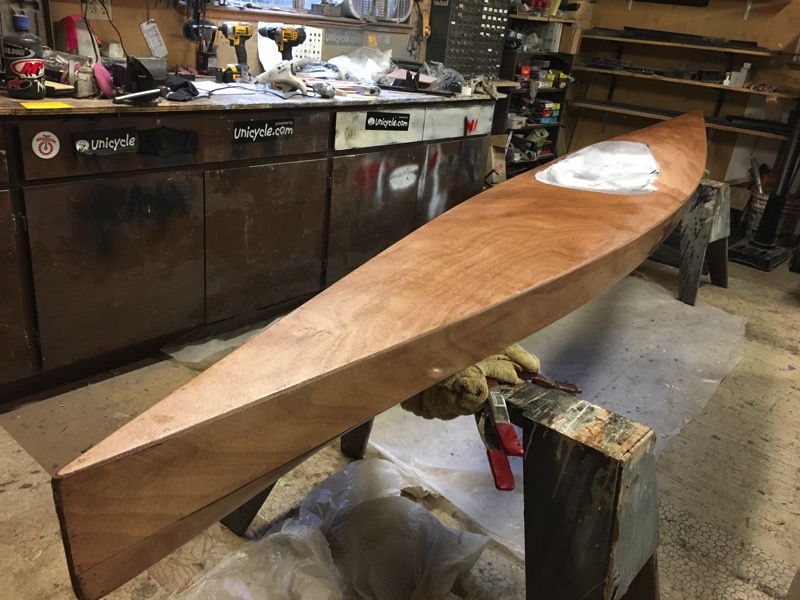 \
This was done with a squeegee, and just enough was put in to fill the weave of the fabric. I'll go over with a second and third coat once it has finished drying to the touch (probably 5 hours).
---
Posted in
General
|
Comments Off

on Building the Chesapeake 16LT Kayak: Part 10 – Top Coat
---
---
I've been busy having fun doing other things, so the kayak progress isn't too fast. Yesterday I finished rounding off the corners of the top, and sanded through all the grits from 80 on up to 220. It is ready for some fiberglassing!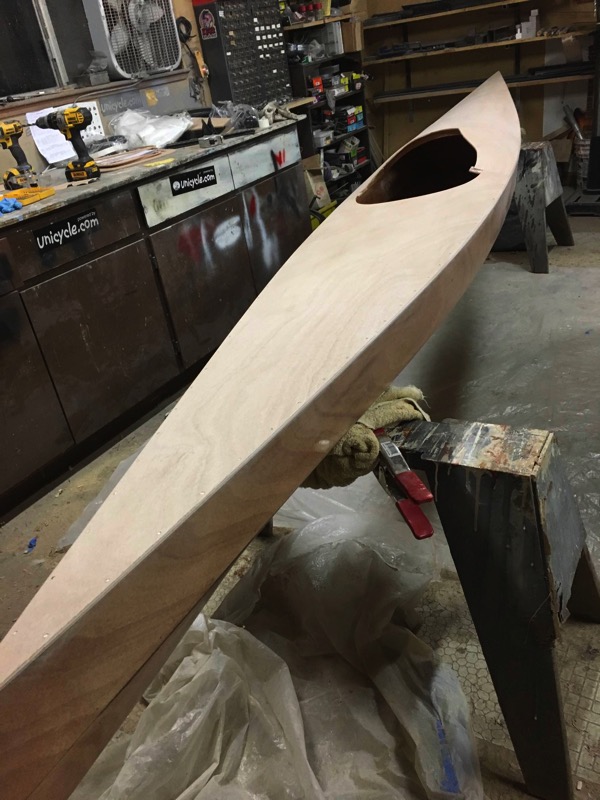 ---
Posted in
General
|
Comments Off

on Building the Chesapeake 16LT Kayak: Part 9 – Rounding the top and sanding
---
---
The next big step in the kayak was to glue the top on. First you put a coat of unthickened epoxy on the bottom side of the top piece, and then use thickened (cab-o-sil) epoxy to glue it down to the top part. Using straps to secure it down in place helps form the curve while you nail it on. An action shot of me!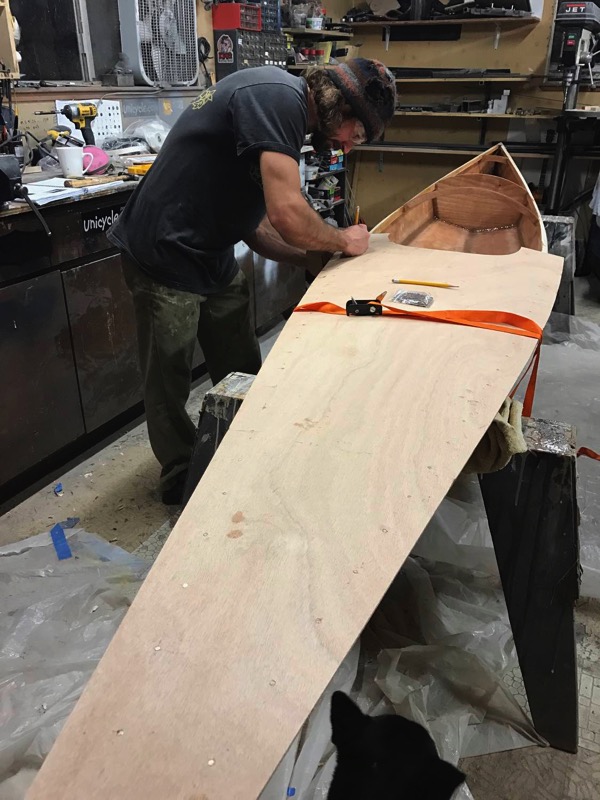 Flip it upside down so the glue drips into the gaps, and fill in the edge gaps (there were quite a few…):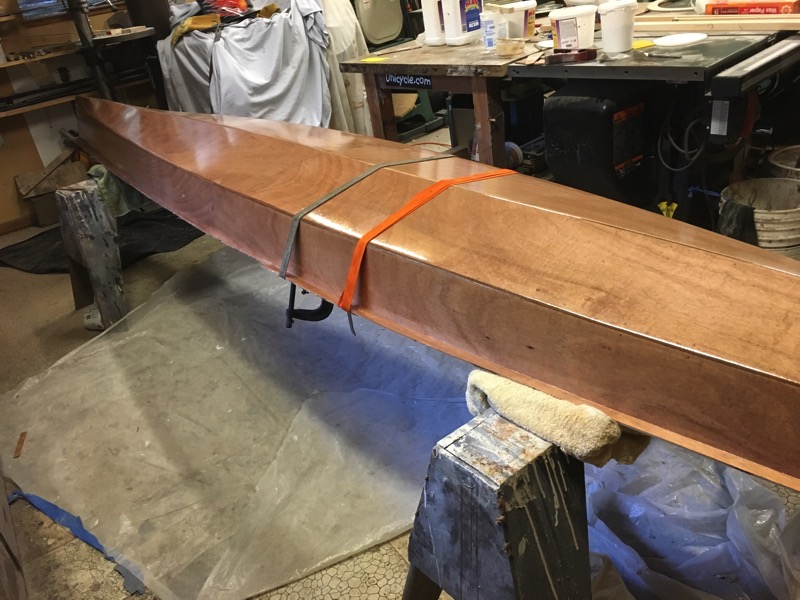 The next day it was dry. I flipped it right side up and trimmed the edge off with my jigsaw before planning it level and adding a bevel: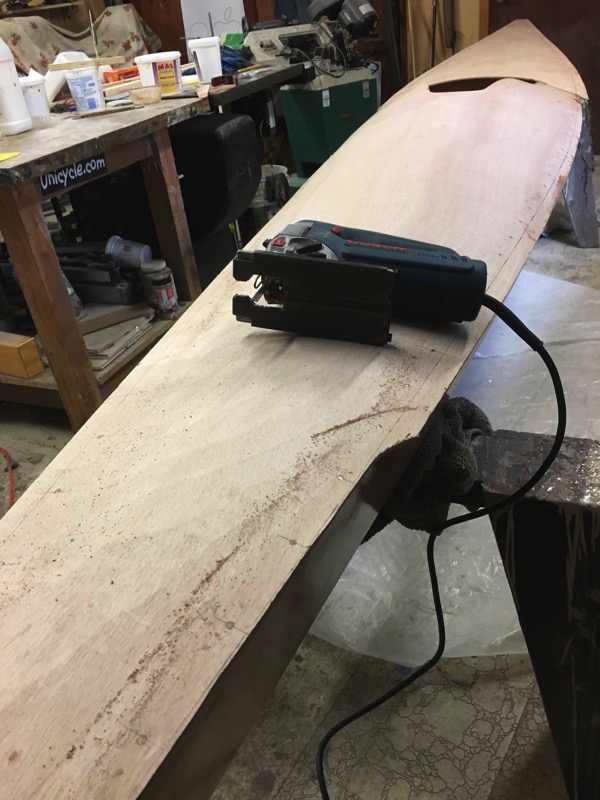 ---
Posted in
General
|
Comments Off

on Building the Chesapeake 16LT Kayak: Part 8 – Gluing the top on
---