---
I'm in the process of preparing for my next big trip: The Arizona Trail on Unicycle.
The Arizona Trail splits the state almost in half with an 800 mile vertical line from Mexico all the way to the top of Arizona. My friend, Jamey Mossengren, spearheaded the idea to do the trail. I've always loved doing adventures, and this sounded absolutely epic. 
I'm going to coin a new term: unipacking. Unicycle + Backpacking = Unipacking. Biker's already have a similar term: Bicycle + Backpacking = Bikepacking.  This differs from bike touring in that it is all offload, and the setup is usually slightly different. While bike touring (or uni touring) you generally have the advantage of riding on roads and going through lots of towns. This makes it relatively easy to find food and shelter, and pretty easy to load the bike down with heavy panniers that contain all the essentials. With bike packing and unipacking you have to carry with you everything you would need: tent, food, clothing, and people usually go minimalistic with just essential gear. You will forgo the normal panniers and opt for tricking out the frame with small auxiliary bags to carry the essentials. And you will get to ride awesome trails, without having to deal with cars and modern civilization. There are tons of great resource out there on the subject; one easy example is http://www.bikepacking.com
So, follow along on my blog as I document my adventure and setup my unicycle in just the right way!
The map below is a copy from aztrail.org showing the overall route: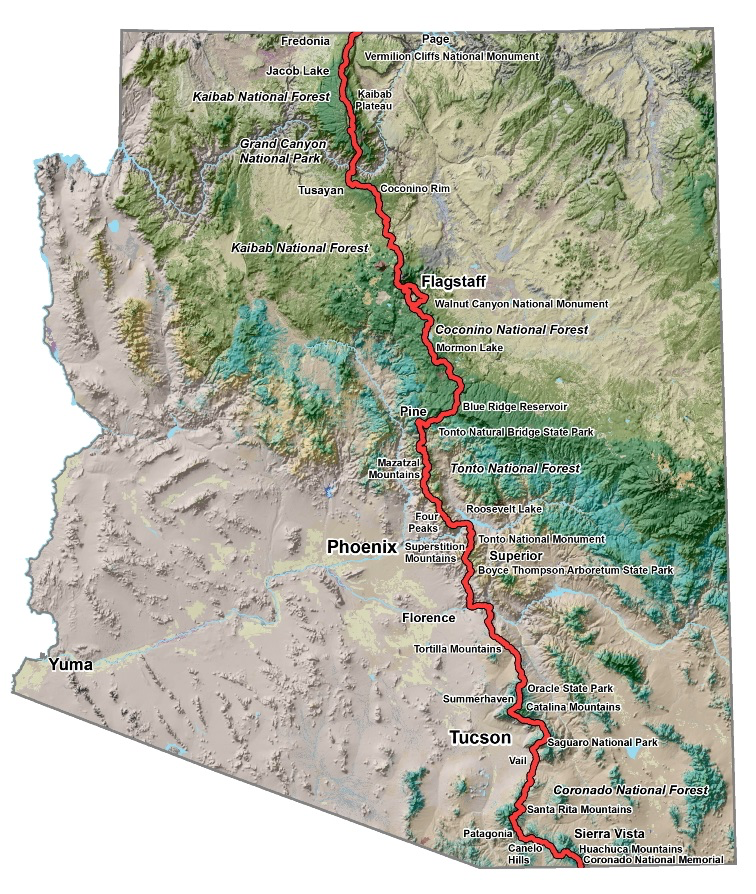 ---
---
I took this picture back in April of 2015 when I was in Nepal on a unicycle tour through the Annapurna mountain range.  Vendors with portable shops would setup their items to sell alongside the main pathway in the little villages. The night before it had snowed a ton, and we had to turn around and head back down the pass instead of completing the entire circuit. I remember the morning in great detail as it was my birthday. This picture was taken on the way back down to lower elevation. 
I hope to go back one day to finish the entire pass. The scenery is amazing and worth a second trip.
Camera: Canon 5D Mark III
Lens: Canon EF24-70mm f/2.8L USM — if you only get one lens I highly recommend this one.
Settings: 30mm focal length, f/3.2, 1/800s, ISO 100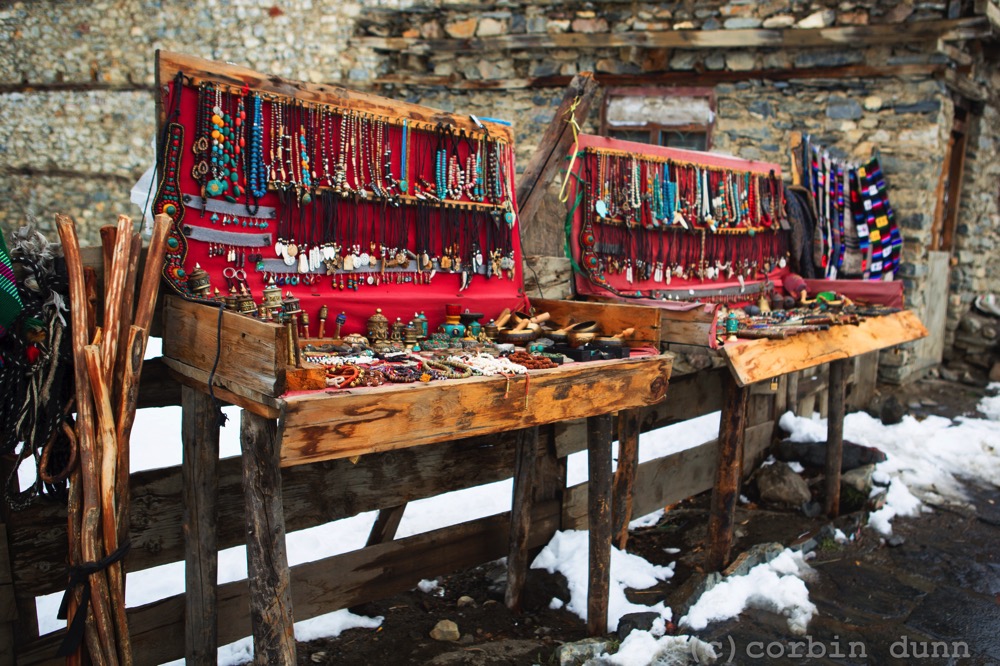 ---
Posted in
Photography
|
Comments Off

on Photography: Nepal Wares
---
---
Late last year, Lexi told me that she wanted to go to Japan. I've always wanted to go to Japan and I figured this would be an awesome opportunity for me to go check out the country. I imagined I would eventually go with a my friends Nathan and Grace, who have a strong connection to the country and would love to do some type of cycling adventure (particularly, uni!). But that hasn't panned out, and this was a great time to go. Lexi had images of skiing in super light powder in Hokkaido, and that was her primary goal. She asked me what I wanted to do there, and my response was "I want to see the snow monkeys that sit in the hot springs". Lexi did all the planning for the trip, and figured out that the snow monkeys are near Nozawa Onsen. Luckily there was some skiing in that town, and we spent a few days there. I think that town was one of my favorite part of the trip. Originally our plan was to just "play it by ear" and book things a few days in advance, but we were going to be there during New Years, and that is a primary travel time in Japan since New Years is a big deal. So we had to pre-book places to stay, or we wouldn't be able to go anywhere. I'm super grateful for her doing so much planning and work. I created a short video highlighting our favorite parts of the trip.
---
Posted in
General
|
Comments Off

on Adventures of Corbin: Japan, Starring Lexi
---
---
---
Posted in
Electric Bug
|
Comments Off

on Plug Bug: Crash update.
---
---
In October 2016 I got a wooden kayak kit. In February 2017 it finally hit the water! It took a little longer than I expected, but I'm happy with the result!
Here I am taking it in the water for the first time. I worked from home this day and quickly left for the Santa Cruz harbor as soon as I was done. It was a dark and stormy day, but I still wanted to try paddling in it. Lexi gave me a hand getting it in the water, and I took off. The kayak handles awesome. This is the first time I've ever sat inside a kayak; all other times I've been on cheap plastic kayaks that are a sit on top style. This machine moves fast, and cuts through small waves without any effort. The storm was brewing a little too strong for me to leave the harbor, and I can't wait to take it out again.
---
Posted in
General
|
Comments Off

on Chesapeake 16LT Kayak: It hits the water
---
---
Happy days are here! Actually, most all my days are happy days, but the kayak is done!
I installed the seat and hatch straps. The seat is just some foam glued in, and in the picture below you can see a brick holding it down while it dries: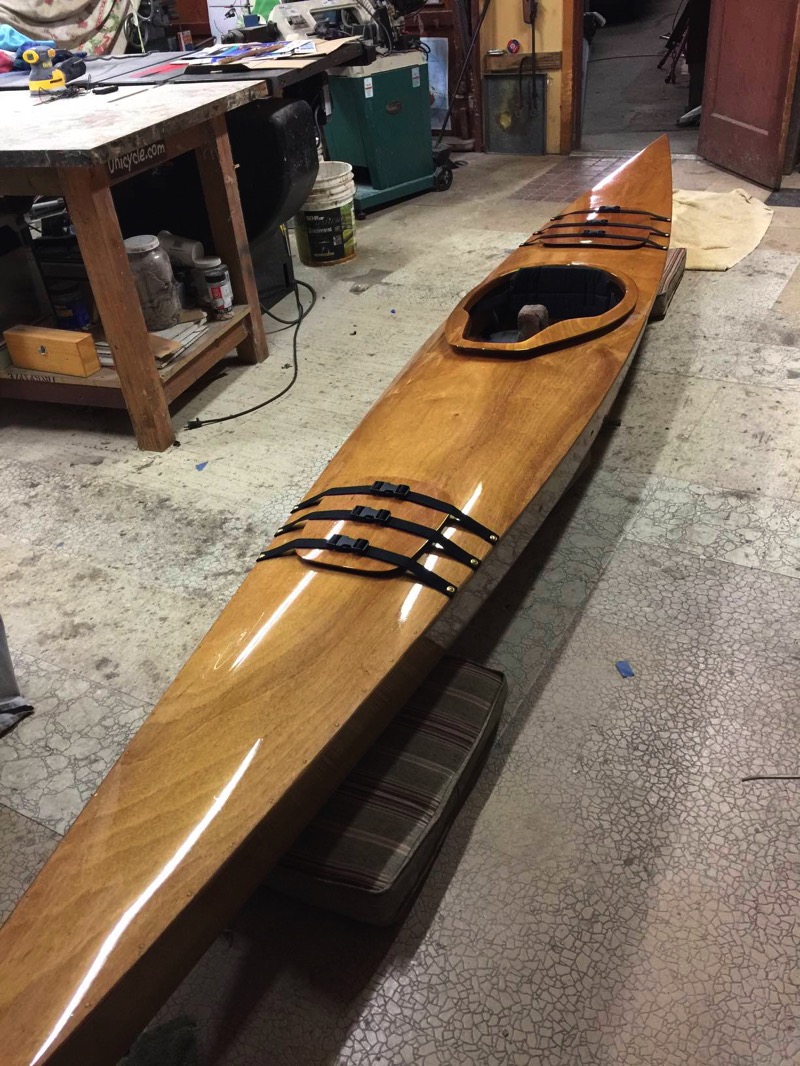 Later I added some elastic tie downs; I left things a little long so I can later tweak it a bit. The next problem I had was where to keep it. I fabricated some quick brackets out of old 2x4s and screwed them to my wall. I then topped it with an old towel to protect the finish a bit: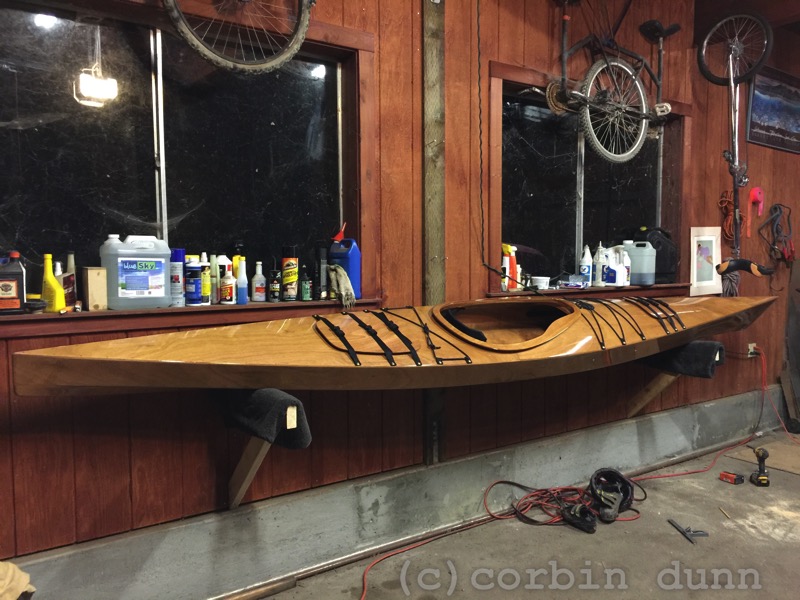 And I just got home after doing a quick paddle around the Santa Cruz harbor. It is fast, and awesome! But a storm is approaching, and it started dumping some rain just minutes after I pulled it out of the water. I need to wait for some better weather to take it out to the ocean. I also could use a proper kayak skirt. 
I'll soon post a video of the maiden voyage!
---
Posted in
General
|
Comments Off

on Chesapeake 16LT Kayak: Part 14 – Finished.
---
---
I did some wet sanding on the kayak after the first coat. The directions say to use 400 grit, but I wet sanded the first two coats with 320, and then switched to 400 for the next two coats.
I grabbed my Go Pro Hero 5 Black and set it up to do a time lapse while I sanded.
I edited the footage using my 27″ iMac using Final Cut Pro X. It chugged a bit, as there were a TON of pictures to process, but it wasn't too hard to create a short little video.
Griffin Hammond has created a great tutorial on how to do the editing: How to Edit a Time Lapse (in Final Cut Pro X)
---
Posted in
General
|
Comments Off

on Chesapeake 16LT Kayak: Part 13: Wet sanding
---
---
I was gone for a few weeks in Japan, so progress on the kayak has been slow. I'm back to doing some work on it. First I had to sand it a ton. 80 grit, 100, 120, 150, 220. I touched up some thin areas with a little more epoxy and then sanded some more.
My plan was to spray it with my HVLP instead of brushing on the finish. I wanted to do it all in one shot, so I suspended it in the air: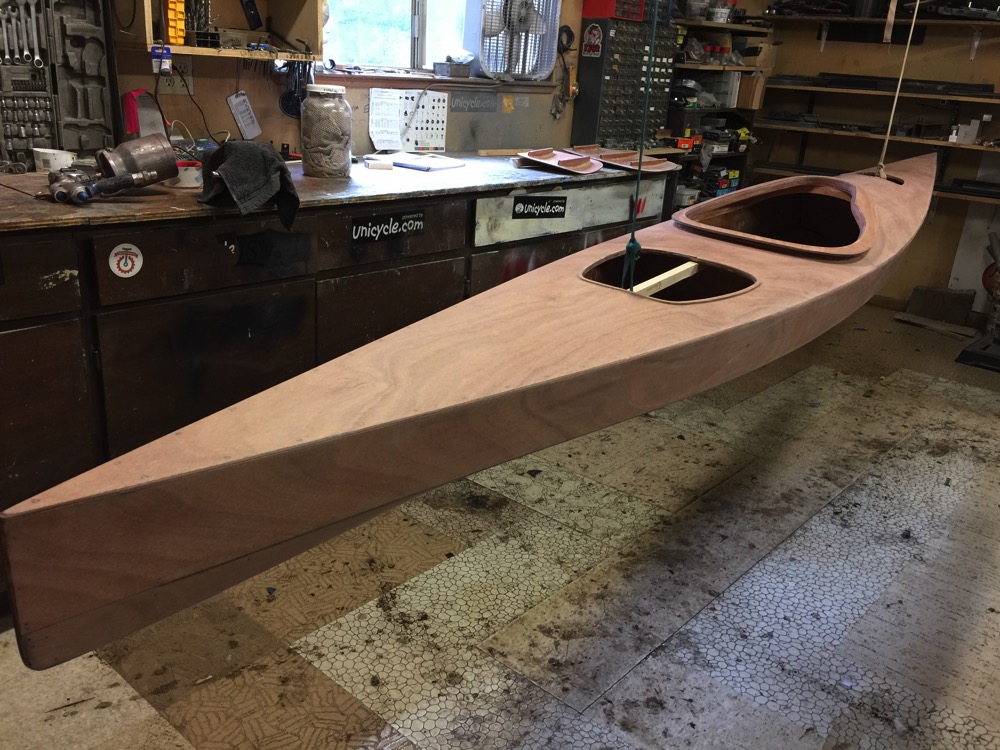 I just attached the webbing to the ceiling with a few screws and washers to distribute the load: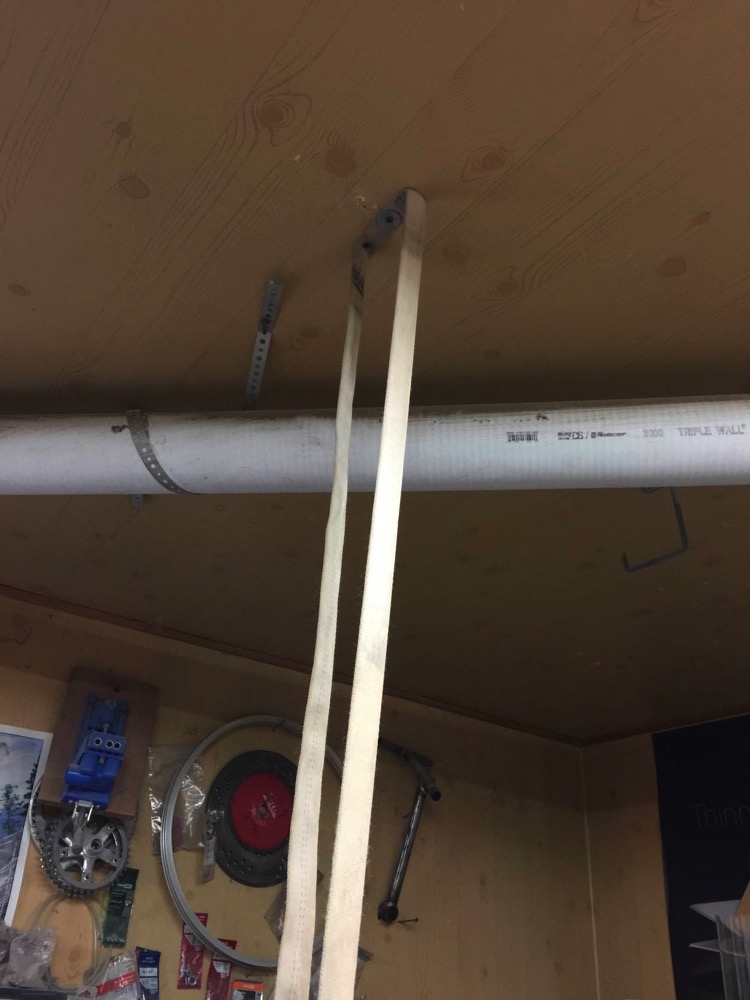 This allowed me to spray the bottom and top at the same time, and worked pretty well: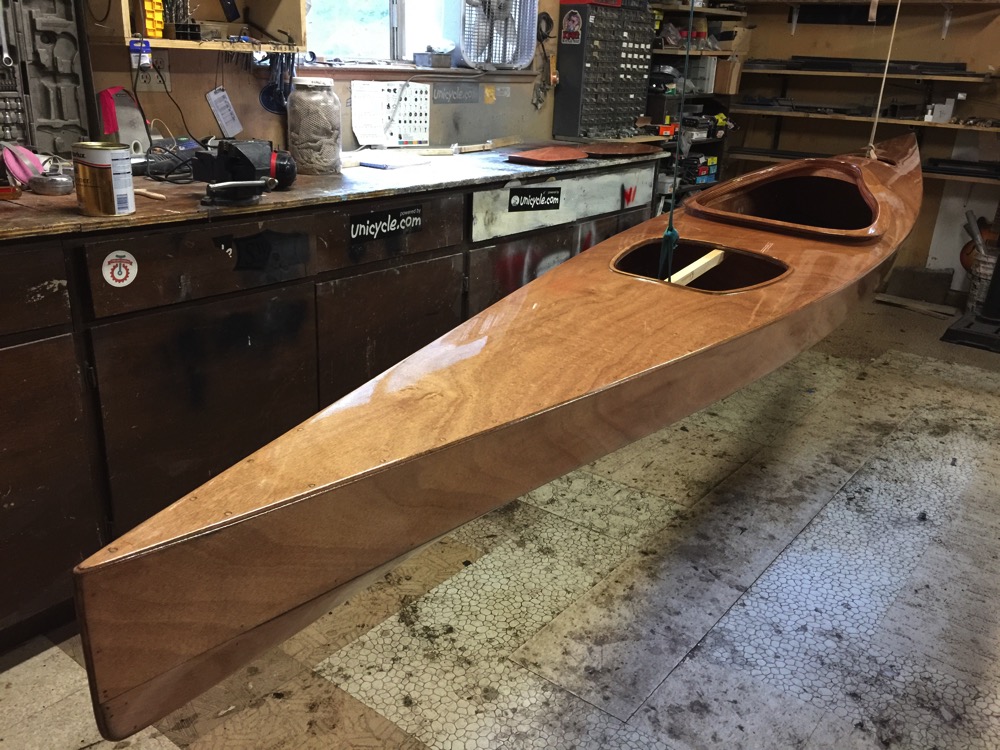 After this, I waited about a day and wet sanded it with 320 grit. I'll up it to 400 grit after the second coat. I want to have a nice level surface, so I'm still sanding it with a sanding block to get it smooth. Note that I also mop the floor to get rid of all the dust.
---
Posted in
General
|
Comments Off

on Chesapeake 16LT Kayak Part 12: Starting the finishing process
---
---
More horse photos! This photo was also taken when I was going through Spain heading from Barcelona up to San Sebastian with a few friends last summer. We touched through France, and I'm pretty sure I snapped this picture while we were on the France side of the world. It is another HDR combined from five difference exposures using Photomatix — the program is awesome for creating HDRs. Download it from Amazon using my link!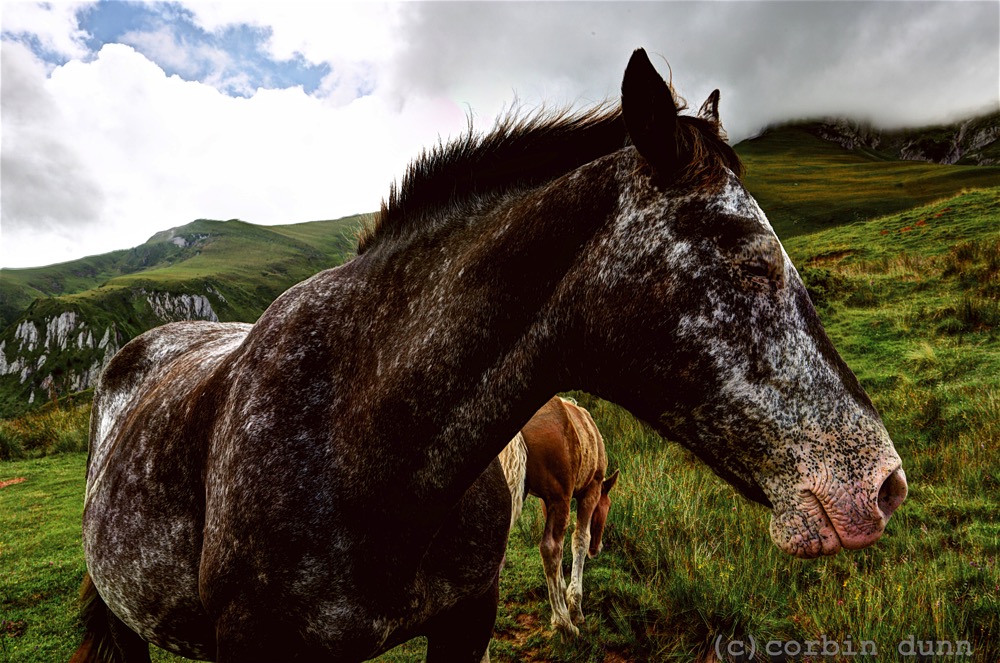 ---
Posted in
Photography
|
Comments Off

on Photography: Speckles the horse.
---
---
I ran around with my tripod taking tons of pictures of the horses on a windy hilltop in France last summer. I used  Photomatix to generate this picture by combining five different exposures.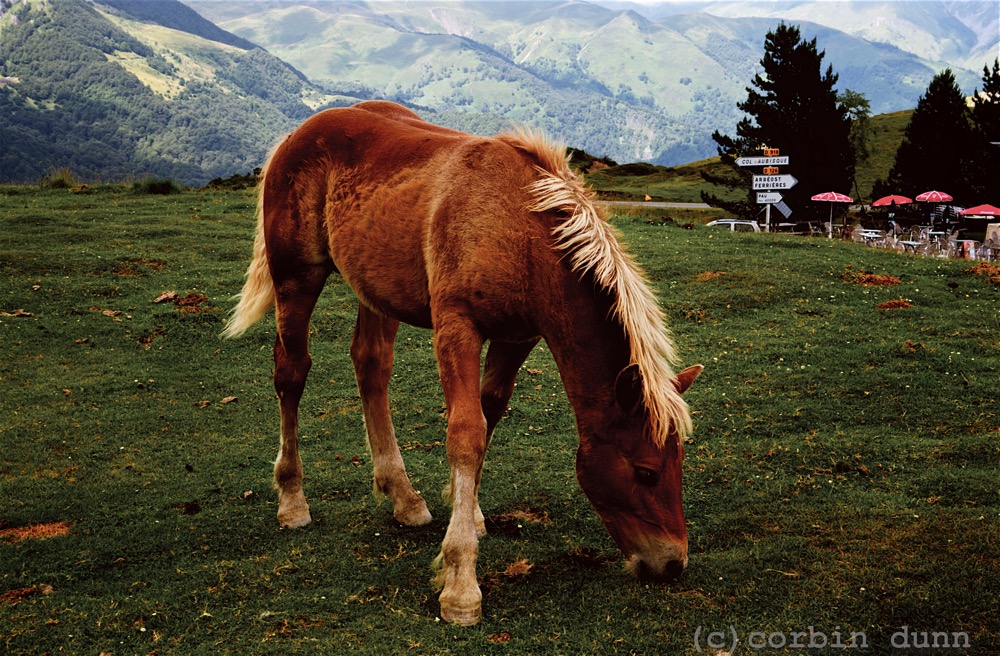 Use Photomatix! I highly recommend it. Below shows some of my workflow; the image at the left is one of the original exposures. The ones at the right are experiments with color correction to give the photo different feelings and moods.

---
Posted in
Photography
|
Comments Off

on Photography: Horse eating grass in France
---